WASHINGTOC, D.C. -
30 Mar 2022
US 'concerned' over South Sudan tensions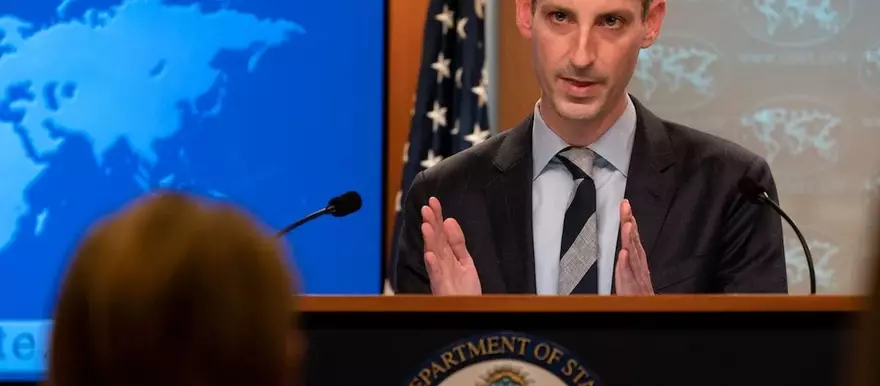 US State Department spokesman Ned Price speaks during a news briefing on 3 February 2021, at the State Department in Washington, DC. [JACQUELYN MARTIN/POOL/AFP via Getty Images]
The United States on Tuesday expressed concern over "growing tensions" in South Sudan, and called on all parties to respect the 2018 peace agreement.
Recently, clashes erupted between the South Sudan People's Defense Forces (SSPDF) and the Sudan People's Liberation Army/Movement-In Opposition (SPLA/M-IO) in Upper Nile and Unity states.
Earlier this month, Riek Machar's Sudan People's Liberation Movement in Opposition (SPLM/A-IO) announced its withdrawal from the peace monitoring body over "unprovoked" attacks on its bases by its "peace partner".
Both sides accused each of starting the attacks. The military confrontation has deepened fissures between factions loyal to President Salva Kiir and First Vice President Riek Machar.
The 2018 peace agreement brought Kiir and Machar together in a government of national unity. But challenges remain, including the unity government's failure to unify the army.
In a statement, US State Department spokesman Ned Price said the SPLM/A-IO's withdrawal from all peace agreement monitoring and verification mechanisms "undermines the peace agreement."
"We call for both sides to observe fully their obligations under the existing peace agreement and note that inflammatory rhetoric is counterproductive and should cease immediately," he said.
The spokesman also calls on Kiir and Machar  "to do their utmost to de-escalate tensions," he continued, adding that both sides "bear responsibility for the deteriorating situation."
Neither have "made good faith efforts to implement the provisions of the revitalized peace agreement," Price said.
Price further said numerous other political leaders also fail to carry out their official responsibilities and many engage in political violence and otherwise violate the letter and spirit of the peace agreement. 
"We call on all members of the Revitalized Transitional Government of National Unity to take the actions necessary to be seen as credible in the eyes of the South Sudanese people, starting with full adherence to and implementation of the 2018 peace agreement," he concluded.