Upper Nile government assesses state oil fields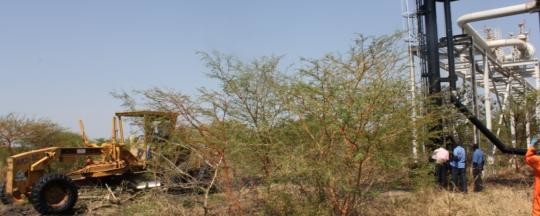 A state government delegation headed by the state minster of cabinet affairs was ordered by the governor of Upper Nile State, Simon Kun Puoch, to gather information on the number of staff working in the state's oil industry and to determine the environmental impact of the drilling.
A member of the delegation and the head of the state petroleum commission, Tutu Ajod Aluny, said that the Counties of Melut, Maban, and Longuchok would be visited as well as Faluj oil field in order to collect information and assess environmental impact on the region.
"We are a delegation formed by H. E the governor of Upper Nile state, Simon Kun Pouch, under the chairmanship of the state minister of cabinet affairs. The visit was purposely to determine the negative environmental impact as a result of oil extraction in the three counties of Maban, Melut and Longuchok. The second purpose was to know the exact number of workers who are working in Faluj oil field with their respective positions," claimed Tutu.
However, the delegation also claims to have assessed issues of insecurity being faced by the company.
"So we came on Thursday and we visited Melut, on Friday we visited Faluj and we went to Maban and met with the security committee and the Commissioner of Maban County and we got acquainted with the all insecurity problems that they are facing," Mrs Tutu added.
Meanwhile, the state's deputy governor, John Ivo, who is currently visiting Maban county claimed that he is working on finding an amicable solution to the area's security challenges, particularly in relation to the Blue Nile refugees in the county's camps.
South Sudan last month agreed to resume its oil production following disputes with neighbouring Sudan which led to its temporary shut-down early last year. Most production takes place in Unity and Upper Nile states although the French company, Total, is currently attempting to explore Jonglei state.