UNMISS initiates 3-day criminal investigation training in Lakes State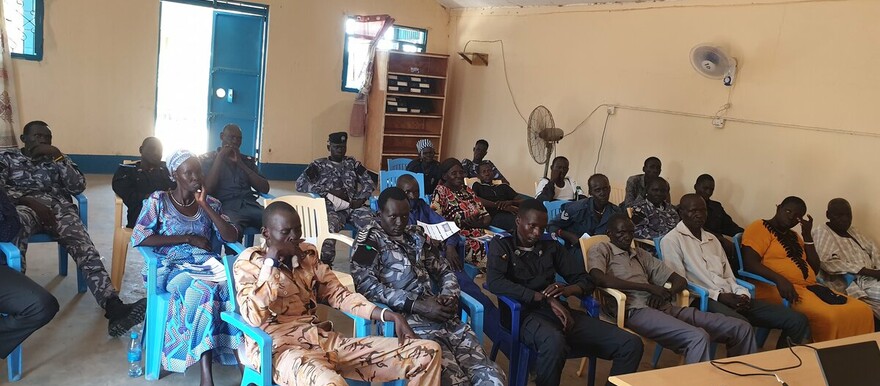 Photo by James Mawien Manyuol/UNMISS.
The United Nations Police (UNPOL) field office in Rumbek has launched a comprehensive three-day training program aimed at enhancing the skills of law enforcement officers in conducting interviews, investigating criminal cases, addressing gender-based violence, and improving information gathering and case presentation procedures in court.
Fifty (50) officers from the Criminal Investigations Directorate (CID) are actively participating in this training, which commenced on Wednesday.
Evelyn Amoako, Deputy Field Office Commander of United Nations Police (UNPOL), expressed her gratitude for the opportunity to host this crucial criminal investigation training. She emphasised the importance of continuous learning and information acquisition in the police force, stating, "As police, we need always to explore, gather information, and get ideas in the course of our duties."
Amoako further elaborated on the significance of the training, saying, "UNMISS has deemed it possible to organise this training for us as criminal investigators for us to embrace ourselves with how investigation needs to be conducted and how to take interviews from suspects throughout these 3 days training. We will take you through the whole process. I urge you all to take this training seriously because it's something that will upgrade you. It's something that makes the police conduct thorough investigations, especially when gathering information to present to court."
"As an investigator, you need to have your documents well built to present your facts to the court," she emphasised. "Throughout this training, we will help you know how to gather information, how to present evidence, and then during the court proceedings, how are you going to stand in court as an investigator and present your case for us to win cases. We don't like a case whereby criminal investigators will take cases to court and then the evidence gathered is not enough or sufficient to support the cases at stake."
Amoako outlined the training curriculum, stating, "Throughout this training, we are going to take you through the introduction and principles of criminal investigation, such as interviews, presentation, and the criminal justice system of South Sudan. Human rights and criminal investigation, reporting system, and then report writing."
She assured participants that UNMISS and UNPOL are always available to provide support and guidance on conducting investigations and sharing necessary information to help secure successful convictions in court.
Marial Akol Pel, the Director of Police Criminal Investigations Directorate (CID) in Lakes State, acknowledged the prevalence of crime in the region and stressed the need for improved investigative skills. He said, "We want to learn investigation skills on how to conduct an investigation for criminal cases in a right way, and when it is presented to the court, the judge will not have anything missing from the investigation. The work of CID is weak according to what we know," Marial added.
Eliza Nyibol, a police investigator in Rumbek, expressed her eagerness to learn from the training and highlighted its potential to enhance their intelligence and information-gathering capabilities in handling criminal cases in Lakes State.
Sebit Reec, another police investigator, emphasised the importance of the training in helping them receive vital information for effective data collection and successful prosecution. "This is my first time attending the training, and I am ready to learn from the training organised by UNPOL," he said. Reec also conveyed a message to the people of Lakes State, emphasising the power of information sharing, which can benefit both the community and law enforcement agencies.