UNMISS head says building trust is next big hurdle to sustainable peace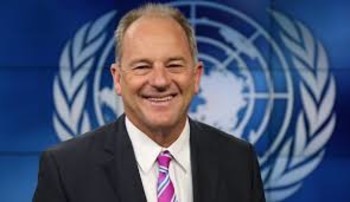 File photo: Special Representative of the Secretary-General and Head of UNMISS David Shearer
UN Special Representative of the Secretary-General in South Sudan and Head of UN Mission in South Sudan David Shearer said the greatest hurdle remains to build trust among parties to the peace deal for it to hold.
Shearer was addressing regional and international leaders including thousands of South Sudanese who attended the peace celebrations in Juba on Wednesday.
"The key ingredient needed at every step is trust. The personalities who signed the Agreement have in the past been former friends and foes. So, the big challenge ahead is to build trust and confidence between the parties – and between the parties and the people," he remarked.
Shearer further said that responsibility to build trust lies not only with the parties but the stakeholders as well.
"That is not just a job for the signatories. It is beholden on all of us here today officials, civil society, religious leaders and the international community – to generate trust so that peace can flourish," he added.
The UN chief further reiterated UN's commitment to support the peace process in South Sudan saying, "Let me assure you, the United Nations is absolutely committed to working with you all as a partner. We will stand alongside the parties as they move forward in peace. We will use our resources and our presence across the country to support reconciliation and peacebuilding."
Shearer stressed that as much as the international community is expected to play its role, it is paramount that the parties demonstrate a political will towards implementing the agreement.