UNMISS chief visits Akobo town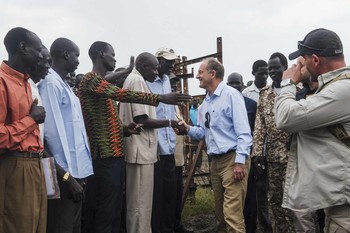 The head of the United Nations Mission in South Sudan (UNMISS ) on Wednesday visited the town of Akobo, a remote and hard-to-reach area in the north-east of the country.
Akobo lies in an opposition-held part of South Sudan.
David Shearer said in a statement that the visit was part of the efforts of the peacekeeping forces aiming to reach more vulnerable people in remote parts of South Sudan.
He further said United Nations peacekeepers are expected to reach vulnerable people in remote parts of South Sudan as the UN mission in the country takes a more "nimble and proactive" approach.
"It's clear that the needs of people in this location are immense," said Shearer, adding the UN Mission is looking at ways of extending a presence in the town.
The UN officials put the number of people living in Akobo town and its surroundings to some 71,000 displaced people who fled fighting between government SPLA and opposition forces in the north-east.
The mission had operated a base in the town but it was closed down following an attack in December 2013 in which two Indian peacekeepers and thirty civilians were killed.
"I came to Akobo to listen to the needs of the community, the local authorities and the 10 to 15 humanitarian agencies which are working here," said Shearer.
"The UNMISS mandate is to protect civilians and help create an environment conducive to the delivery of humanitarian aid," he added.