Unity State governor condemns attack on convoy in Warrap State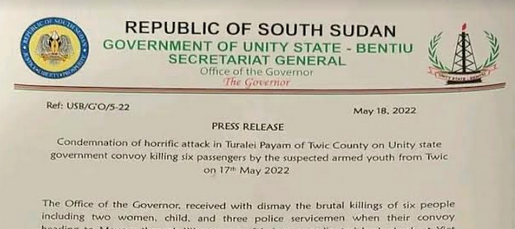 Unity State Governor Dr. Joseph Monytuil Wejang has condemned Tuesday's deadly attack on a convoy headed for his state's Mayom County from Juba.
The attack in Turalei Payam in Twic County, Warrap State, left two women, a child, and three policemen dead.
In a press release obtained by Radio Tamazuj on Wednesday, Dr. Monytuil called upon his Warrap State counterpart to bring the attackers to book.
"The office of the governor received with dismay the brutal killings of six people including two women, a child, and three police servicemen when their convoy heading to Mayom through Warrap State fell into coordinated bushwhack at Yiet village of Turaleli Payam. Indeed this kind of attack is among many incidents targeting Unity State's innocent civilians in Warrap State," the statement read. "My heartfelt condolences to immediate families of the departed souls."
"On behalf of the people of Unity State and the government, I condemn in the strongest words possible the attack on a state government mission and personnel by the armed youth from Twic County," he added.
He urged the Warrap State leadership to recommit to the rule of law and peaceful coexistence.
"My government remains in pursuit of peace across the northern corridor bloc and beyond reminding the stakeholders and intellectuals to refrain from hate speech on all platforms to avoid jeopardizing historical relations between the sisterly communities," Dr. Monytuil said.