UNISFA temporarily relocates chief engineer on security concerns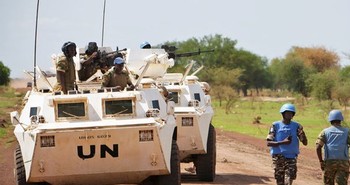 UN peacekeepers on patrol in Abyei. UN Photo/Stuart Price
The United Nations Interim Security Force for Abyei (UNISFA) said it has temporarily relocated its Chief Engineer Laith Haddadin, citing threats to his life by a group it termed "misinformed individuals."
This comes after residents in Abyei staged a peaceful march demanding Haddadin's removal from his position.
In a statement extended to Radio Tamazuj on Tuesday, UNISFA denied reports that the Chief Engineer has been fired, saying Haddadin remains a staff member of UNISFA, and will retain his post until specific allegations of misconduct are brought against him, and verified through a proper, independent investigation.
"The notion that Mr. Laith Haddadin has been fired is therefore inaccurate and misleading," the statement reads in part.
The UN mission in Abyei pointed out that it remains fully committed to its mandated tasks and welcomes renewed constructive engagement with all stakeholders in order to enable the mission to maintain the peace and security that is needed for the people of Abyei to go about their normal activities.
"UNISFA wishes to reiterate that the Chief Engineer has not hired foreigners, or attempted to deprive the local community of jobs. Indeed, no casual worker from outside the Abyei box has been hired by UNISFA other than a small number of technically skilled workers, whose expertise cannot be found locally," UNISFA said.
Bulabek Deng Kuol, the Ngok Dinka Paramount Chief in Abyei, told Radio Tamazuj earlier that UNISFA's Chief Engineer had been fired after local residents protested peacefully against Haddadin. He pointed out that the Chief Engineer was being accused of hiring foreigners to do casual work that should be given to the locals.