UNHCR: Humanitarian crisis looms as thousands of Ethiopians seek refuge in Sudan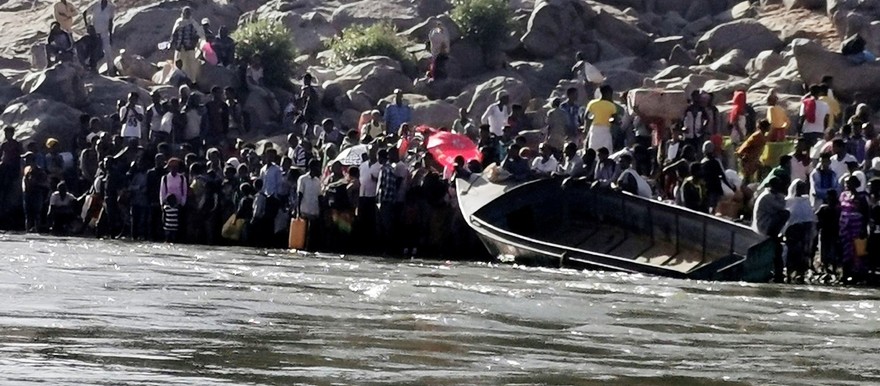 Ethiopians who fled the ongoing fighting in Tigray region prepare to cross the Setit River on the Sudan-Ethiopia border in Hamdait village in eastern Kassala state, Sudan, Nov. 14, 2020. [Photo: Reuters]
The UN Refugee Agency, UNHCR has warned that a full-scale humanitarian crisis is unfolding as thousands of Ethiopian refugees flee to eastern Sudan since the conflict erupted at the beginning of the month.

Fighting broke out between the Ethiopian central government and the Tigray People's Liberation Front (TPLF), a political party that controls the northern Tigray region after the government accused TPLF of holding an illegal election and attacking a military base to steal weapons, a claim the TPLF denied. Ethiopian Prime Minister Abiy Ahmed then ordered a military offensive against the Tigray forces accusing them of treason.

According to media reports hundreds of people have reportedly died in nearly two weeks of clashes.

UNHCR says more than 27,000 Ethiopian refugees have now crossed into Sudan through the Hamdayet border in Kassala State, the Lugdi in Gedaref State, and a new location further south at Aderafi border where Ethiopian refugees started crossing over the weekend.

UNHCR spokesperson Babar Baloch addressing a press briefing in Geneva on Tuesday, said women, men, and children have been crossing the border at the rate of 4,000 per day since 10 November, rapidly overwhelming the humanitarian response capacity on the ground.

Baloch said UNHCR and its partners are working with the Sudanese government to respond to the needs but also reiterated its call for peace and urged parties to respect the safety and security of all civilians in Tigray.

On Wednesday, the BBC reported that Ethiopia's prime minister had announced that a military operation against Tigray forces was entering its "final phase", saying a three-day deadline given for Tigray's forces to surrender had elapsed.

The TPLF sees the central government as illegitimate, arguing Mr. Abiy does not have the mandate to lead the country after postponing national elections because of the global coronavirus pandemic.
UNHCR said it was concerned for the Eritrean refugee population of nearly 100,000 in Tigray, who are reliant on assistance from UNHCR and partners stating that there is a real possibility of further displacement of refugees.