UNDP trains Torit residents in community policing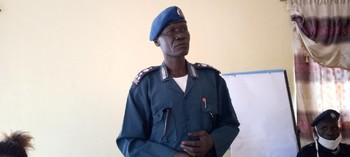 Defunct Torit state acting police commissioner Brigadier General Gasmiro Okomos Gaitano addressing the community police training in Torit Wednesday 21st October 2020 [Photo Radio Tamazuj]
The United Nations Development Fund (UNDP) has trained 42 members of the Police Community Relations Committees (PCRC) drawn from the five blocks of Torit Municipality to help curb insecurity in their respective suburbs.
The PCRCs are comprised of local chiefs, secretaries, and members from each residential block whose role is to resolve simple community issues like theft, neighborhood fights, and gender-based violence while reporting serious crimes to the police.
The acting commissioner of police in the Eastern Equatoria State capital, Torit, Gasmiro Okomos Gaitano, decried the small number of police personnel which he says hinders efforts to combat insecurity.
Speaking during the two-day training that kicked off on Wednesday, Okomos said, "The major challenge is mobility because if any crime is reported to the police to act fast, we cannot because of transport challenges. We don't have cars. The second issue is lack of forces, in reality, we had a good number of police forces but when these states were divided into Torit and Kapoeta, there was a problem in the middle here until the number of forces decreased."
These gaps prompted UNDP to intervene by training civilians in different residential areas in community policing to improve security in the Torit Municipality.
The police commissioner revealed that many police personnel joined training for organized forces with hopes of getting better benefits.
According to the Revitalized Peace Agreement on Resolution of Conflict in South Sudan, there are to be no new recruitments until all forces are trained, reintegrated, and unified.
Lucia Jovani, the rule of law officer in Torit, said the training will increase the capacity of the community to resolve minor cases.
"Today we have PCRC workshop for two days to increase their knowledge of community policing and also how they can resolve some simple cases in their community or how they can refer them to police," Jovani said.
"We have called people from the five blocks of Torit municipality where they represent 21 residential areas, in which we have two each - a man and a woman. They will then go back to train the people in their respective areas in what they have learned so that they will be able to maintain security in their areas," she added.
The sub-chief of Ifwanyak Block A, Michael Ohitai Louis and Aloyo Lilian, the chief of Morwari A quarter council both agreed that the training is beneficial to them when dealing with minor cases.