UN urges South Sudan to fast track formation of hybrid court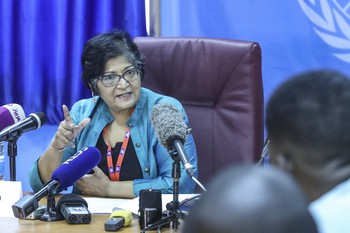 Yasmin Sooka, Chairperson of the Commission on Human Rights in South Sudan, at a press conference in Juba, South Sudan, 15 December 2017 ©UNMISS Photo
The UN Commission on Human Rights in South Sudan on Monday called on South Sudan government to expedite the process of forming a hybrid court to try perpetrators of rights abuses in the war-ravaged nation.
This follows a similar call by the United States on 7th September 2018.
In a statement, the commission urged South Sudan to use the newly signed peace deal as an opportunity to ensure justice and accountability for the victims of rights abuses.
"The Commission in particular urged the African Union and the Government of South Sudan to agree on a timeline to fast-track the long-awaited Hybrid Court for South Sudan, the Commission on Truth, Healing and Reconciliation and the Compensation and Reparations Authority, all set out in Chapter V of the Peace Agreement to render justice and facilitate national reconciliation," the statement reads in part.
The Commission's Chairperson Yasmin Sooka said they are waiting for consent from the government of South Sudan.
"Six months later, we are still waiting for this signature [by the President of South Sudan or his foreign Minister], which is required by the African Union to set up this court," stressed Ms. Sooka.
"South Sudan is at war with its citizens and currently stands at the crossroads between hope and peace, on the one hand, and more missed opportunities, on the other hand. Sustainable peace requires justice and accountability for serious crimes," she added.
The rights body further added that victims of the five-year conflict need justice for healing of communities and rebuilding of social bonds, while condemning the on-going sexual violence against women and girls in South Sudan.
The Commission further criticised the South Sudanese government for not heeding to calls by civil society and the international community to abolish the death penalty or put in place a moratorium on executions, noting that three executions took place in May this year.
It further expressed fears that there could be more executions in the coming months as 40 out of 345 death-row prisoners detained across the country have been transferred from state and county prisons to Wau and Juba central prisons, which are the only prisons equipped with execution chambers.