UNITED NATIONS, (REUTERS) -
12 Jul 2013
UN urges peacekeepers to redeploy to focus on South Sudan hotspots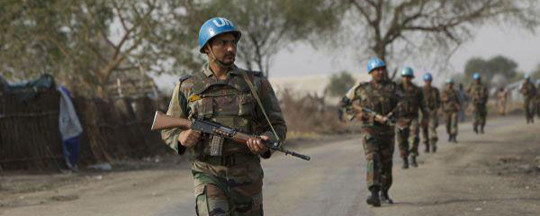 The UN Security Council urged peacekeepers in South Sudan to quickly move more troops and equipment to volatile areas like the eastern state of Jonglei to better protect civilians as it renewed the UN mission on Thursday for another year.
Fighting between South Sudanese troops and armed groups in Jonglei has forced tens of thousands of people to flee their homes in the African nation, while gunmen in April ambushed and killed five UN peacekeepers and seven civilian staff.
The United States issued a rare criticism of South Sudan on Wednesday, saying it was "deeply disappointed" the army had failed to protect civilians in vulnerable areas in Jonglei. Washington is one of Juba's biggest allies.
South Sudan's UN ambassador, Francis Mading Deng, told the council his country was determined to work on its problems.
"We recognize that there is a gap between our aspirations for security and respect for human rights, which can be attributed to the negative legacy of a long and devastating conflict that has left the people traumatized, militarized and heavily armed," he said.
The UN mission has fewer than 6,900 troops to cover a country the size of France and which has barely 300 km of paved roads. Seasonal rains have turned the region into a swamp, severing road access.
In a unanimously passed resolution, the 15-member Security Council noted "with concern the strategic gap in mobility for the mission and the continuing critical need for aviation capacity and other mobility assets, including helicopters and riverine capability" and called on states to provide aircraft.
The UN envoy to South Sudan, Hilde Johnson, told the council on Monday that after a UN civilian helicopter was shot down in December, new safety procedures and a lack of helicopters - the peacekeepers have only three - had slowed the mission.
The Security Council authorized appropriate transfers of troops and equipment from other African missions to South Sudan, which marked two years of independence from Sudan on Tuesday.
UN Secretary-General Ban Ki-moon has outlined several options to boost the South Sudan mission in a report to the Security Council, including surveillance drones, helicopter gunships and more cargo and river transport capabilities.
In his report, Ban also said surveillance drones should only be considered after the Congo program had been evaluated. The UN mission in Congo is due to begin using surveillance drones in August to monitor the thickly forested and remote eastern border with Rwanda and Uganda.
Congo has been battling a year-long insurgency by M23 rebels. UN experts accused Rwanda of sending troops and weapons across the border to support the M23 last year. Rwanda denies the accusation.
The United Nations has also set aside money to deploy surveillance drones eventually in Ivory Coast to monitor its border with Liberia following a recommendation by Ban and a request from the West African country.
(REUTERS: Reporting by Michelle Nichols; Editing by Peter Cooney)
File photo: UNMISS peacekeepers patrolling in Pibor, Jonglei State, South Sudan. (Photo: UNMISS/Martine Perret)