UN plans vote on sanctions against six S Sudanese officials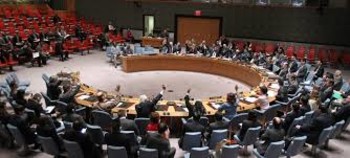 The UN Security Council plans to vote on Thursday on a draft resolution that would slap sanctions on South Sudan's leaders for allegedly obstructing peace efforts.
According to the draft resolution seen by Radio Tamazuj on Sunday, the UN Security Council plans to sanction several South Sudanese leaders on both sides of the ongoing conflict.
The resolution requires only 9 yes votes out of the 15 total votes in the Council.
The proposed measures would freeze the assets and ban travel for six South Sudanese officials, including Defense Minister Kuol Manyang Juuk, Cabinet Affairs Minister Martin Elia Lomuro, former army chief Paul Malong, Minister of Information Michael Makuei Lueth, and deputy chief of defense for logistics Malek Reuben Riak Rengu.
The proposed sanctions also target Koang Rambang, the rebel-appointed governor of Bieh State.
Cecilia Adeng, South Sudan deputy representative to the United Nations, wrote a letter to the ministry of foreign affairs to reach out to China and Russia for a possibility of using their veto vote.
Cabinet affairs minister Martin Elia Lomuro told Radio Tamazuj that the government is yet to comment officially on the matter. "We still have time, so we do not want to comment on it now," Lomuro said.