WESTERN LAKES -
3 Dec 2019
UN peacekeepers deploy to stop Western Lakes communal violence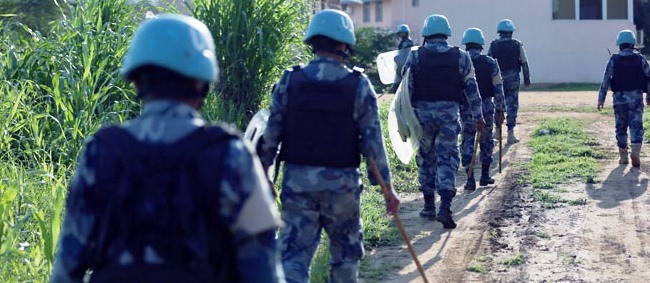 File – United Nations soldiers patrol Juba for security protection of civilians with the Mission's Nepali Force Protection Unit (FPU), on Friday, July 15, 2016. Photo: Eric Kanalstein/United Nations Mission in South Sudan (UNMISS) via AP
The United Nations Mission in South Sudan (UNMISS) said it had re-deployed 75 troops to halt communal clashes and revenge attacks in Western Lakes State.
UNMISS said in a statement on Tuesday that the Nepalese troops based in the town of Rumbek were flown by helicopter, after heavy rains rendered roads impassable, to Maper area where the incident took place.
The UN mission explained that the fresh deployment follows reports from local authorities that as many as 79 people have been killed and a further 101 injured in a series of communal clashes and revenge attacks between the Gak and Manuer communities, about 100 kilometres north of Rumbek.
While political violence has largely subsided in South Sudan since the signing of the peace deal in September 2018, intercommunal clashes continue to result in the killing and injuring of civilians, cattle raiding and the looting of property.
"This fighting must stop," said the Special Representative of the Secretary-General and Head of UNMISS, David Shearer.
"We are urging the communities involved and their leaders to put an end to the violence and to come together in reconciliation and peace for the good of their people," he added.
The troops will continue to patrol the area in the coming weeks to provide a protective presence, the UN mission said.
The statement pointed out that the UNMISS Force Commander and the Head of the Mission's Field Office in Rumbek along with human rights and civil affairs staff also travelled to Maper yesterday to assess the security situation.
It added that the delegation was welcomed by local authorities and community members who indicated a willingness to take part in mediation and peace-building activities.
Benjamin Laat, the state information minister, told Radio Tamazuj on Monday that the clashes stopped after security forces were sent to control the situation in Maper.
He disclosed that the clashes erupted between both sides last week when the Manuer section accused Gak of killing a businessman from their side.
According to reports, the routine of inter-communal clashes in many parts of the country prevails due to lack of an efficient justice system.