UN official: UN supports talks, not elections in South Sudan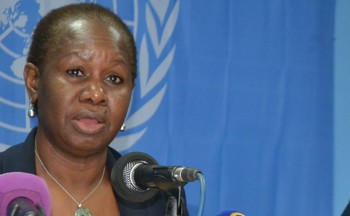 File photo: Assistant Secretary-General Bintou Keita (UNMISS)
The UN's deputy peacekeeping chief said the world body opposes the South Sudan government's plan to conduct elections if warring parties are unable to reach peace in Addis Ababa.
Bintou Keita, who recently visited war-torn South Sudan, told reporters Wednesday shuttle diplomacy is taking place to try to narrow the gap between the warring parties.
She further said South Sudan government officials raised new elections as a "Plan B" if the talks fail as a way to exit "the dire situation in which the country finds itself."
But Keita said it's clear to the UN that from an economic, political and humanitarian perspective, it is "not conducive right now" for South Sudan "to go through any meaningful elections as a Plan B."