UN official calls for women empowerment in South Sudan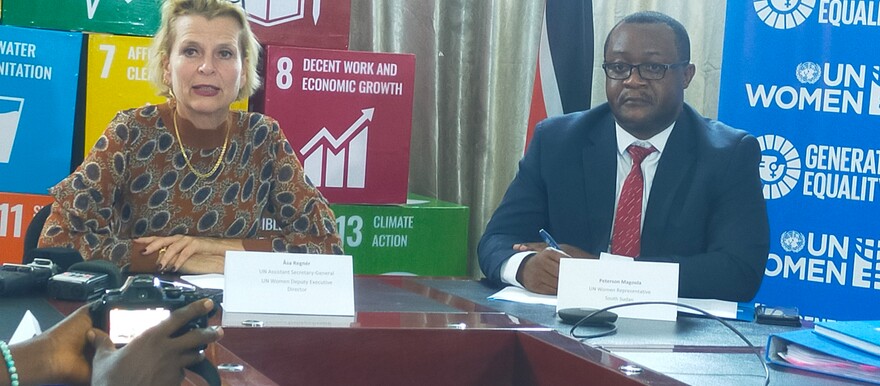 A top official from the UN on Tuesday emphasized the importance of women empowerment, meaningful participation, and leadership in the implementation of South Sudan's peace process.
Asa Regner, the United Nations Assistant Secretary-General, and UN Women Deputy Executive Director were speaking on Tuesday during her four-day working visit to South Sudan.
Addressing the press on Tuesday evening in Juba, Regnér said they want to understand the current gende r equality situation in the country and discuss with stakeholders the establishment of accountability mechanisms to promote women's empowerment. 
"Women and girls' participation is their right and also indispensable to peace and development. UN Women will continue supporting their leadership," she said.  
She lauded the roles played by the South Sudanese women leaders including the speaker of the Transitional National Legislative Assembly in promoting laws that empower women in the country. 
"The fact that she (Speaker Jemma Nunu Kumba) also promotes the women's caucus in the parliament, the regulations, and as well as she wants to support the adoption of legislation that favors women's rights and improves women's situation in South Sudan, all of these are important," she said.
Regnér however decried high levels of violence against women as well as social norms which make it difficult for women to take up paid work.
"The fact that many young girls are married off into situations where they have zero or very little influence on what happens to them and over their own lives," she said. "We have heard of the need for education, we met with women in uniform today from the police and many of them asked for women in the country to be able to get both better education throughout the country and also to learn English."
On her part, Rukaya Mohammed, UN Women Deputy Representative in South Sudan said the economic situation in the country forces parents to marry off their girls at a tender age. 
She revealed that they are empowering women economically to address the situation. 
"The economic situation in the country compels some parents to force their girls into marriage very early so because of that as part of our economic empowerment program one of them has to go with village savings associations where we bring together women from diverse backgrounds, train them on the culture of saving," she noted.