UN: Landmines threaten million of lives in South Sudan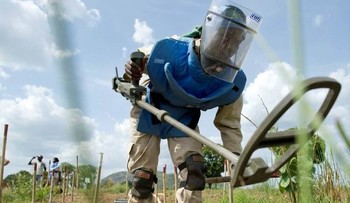 About 6 million South Sudanese live in areas with the presence of landmines and explosive remnants of war, according to a UN agency on Saturday.
The United Nations Mine Action Service (UNMAS) in war-torn South Sudan said decades of conflict have plagued nearly 90 million square meters of land with explosive hazards.
The agency said an estimated 150 previously unknown hazards are discovered each month, with the full extent of contamination unknown, calling for a countrywide survey.
UNMAS said since it started operations in the war-torn country in 2004, it has surveyed, cleared and released 1.184 million square meters of land back to the people of South Sudan.
The agency pledged commitment to implement all aspects associated with mitigation of the threats from mines and explosive remnants of war.
The UN body celebrated its 20th anniversary Saturday.