UN gives South Sudan one month to stop fighting or face sanctions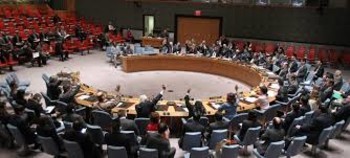 The UN Security Council on Thursday gave South Sudan's warring parties one month to stop fighting and sign a peace agreement or face possible sanctions.
The United Nations identified six South Sudanese officials for a possible asset freeze and travel ban: Defense Minister Kuol Manyang Juuk, former army chief Paul Malong Awan, Minister of Information Michael Makuei Lueth, and army deputy chief of staff for logistics Malek Reuben Riak, rebel-appointed governor of Bieh state Koang Rambang and cabinet affairs minister Martin Elia Lomuru.
The resolution received the minimum 9 "yes" votes, with six countries abstaining: Russia, China, Bolivia, Kazakhstan, Equatorial Guinea and Ethiopia.
The resolution requires UN Secretary-General Antonio Guterres to report by June 30 on whether fighting is taking place and a viable political agreement has been reached.
If he reports fighting or lack of an agreement, it says the Security Council will consider imposing an arms embargo or sanctions against the six officials - or both measures within five days.
The resolution also renews for 45 days the sanctions imposed in 2015 on those blocking peace in South Sudan.
Reacting to the news, the US-based advocacy group the Enough Project, said the international community still lacks the leverage required to persuade the South Sudanese factions to accept peace in their country.
It further said postponing or delaying the processes of holding high-level politicians accountable only helps to strengthen hardline positions among them.
John Prendergast, Founding Director at the Enough Project, said: "As far as IGAD and the AU are concerned, South Sudan is an accountability-free war zone. Without leverage, the next round of peace talks has no chance of succeeding. And leverage comes through action, in the form of escalating targeted sanctions against the networks fueling and benefiting from war. Only biting financial and legal pressure focused on the government and rebel leaders who have torn the world's newest country apart and their commercial collaborators could possibly alter current calculations that favor war, instability and chaos over peace, democracy, and the rule of law. IGAD and the AU should follow through on their own threats and create consequences for the spoilers of South Sudan's peace."
Meanwhile Brian Adeba, Deputy Director of Policy at the Enough Project, said: "It is now evident that as long as the Security Council, the African Union, and IGAD don't follow through on threats to hold the peace spoilers accountable, peace will remain elusive in South Sudan. For the next round of talks to succeed, there needs to be a clear connection to efforts geared at leveraging the parties to take compromises seriously."