UN demands Sudan releases 4 workers detained in Heglig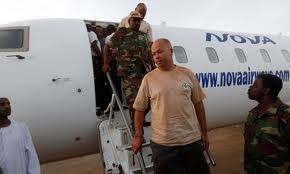 The UN has demanded that Sudan releases four landmine experts kidnapped over a week ago near the border with South Sudan.
A statement released by the UN office for the coordination of humanitarian affairs said it has demanded that Sudan releases and hands over the four employees.
The British, Norwegian, South African and South Sudanese nationals are reportedly being held at a military centre in Khartoum charged with illegally crossing the border carrying military equipment.
Khartoum have hinted that they believe the men were working on behalf of South Sudan, arrested in Heglig shortly after the South Sudanese army withdrew following fighting with Sudan.
However other organisations have said the men were working to remove landmines in South Sudanese territory for the UN.