UN delays base-building in S. Sudan counties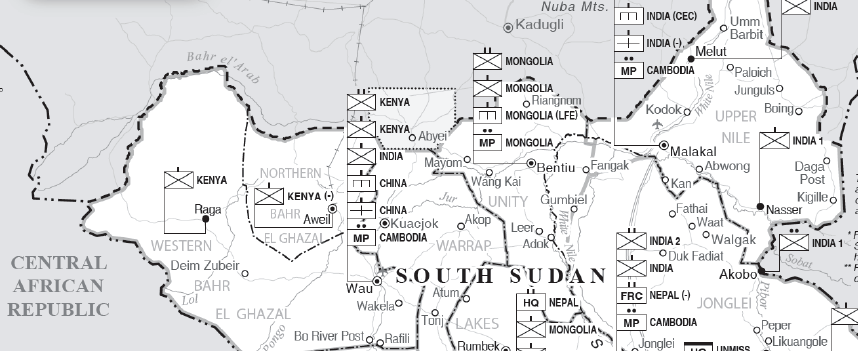 The UN mission in South Sudan has extended its schedule for building 35 county support bases, saying that "engineering capacity within the Mission is stretched to the limit."
A recent report by the UN Secretary-General Ban Ki-moon, prepared in collaboration with the UN mission, acknowledged that it "decided to stagger the establishment of the 35 county support bases over a period of five years instead of three."
Besides the lack of engineers, the mission faced "delays in the arrival of assets from the liquidated United Nations Mission in the Sudan," the report disclosed.
Some UN materials are stranded at Kosti port in White Nile state. The Sudanese government has not authorized the assets to be transported onward to the south.
The UN secretary-general acknowledged in his report that the construction delays in the counties "has hampered staff deployment."
The mission, known as UNMISS, currently has permanent or temporary bases in 13 county headquarters, plus military units in national and state capitals.
It now aims to open seven more bases in 2013-2014 in Mayom, Pariang, Tambura, Maper, Malualkon, Kodok and Bunj, with more bases to be opened the following years.
Ban Ki-moon also reported that the mission lacks enough military helicopters to deploy troops to remote areas where civilians might come under threat.
"Continuing operations in Jonglei State in September and October 2012 have underscored the need for military helicopters, in addition to the value of riverine assets," he stated.
UNMISS released the report, dated 8 November, to local press on Friday, 30 November. The secretary-general is expected to produce such a report every four months and deliver it to the UN Security Council.
Map: UNMISS deployment in the northern states of South Sudan as of October 2012; three units of the Indian Battalion in Renk and Malakal not shown; UNISFA units in Abyei Area and UNAMID units in Darfur are also not shown.