UN: Cholera outbreak claims 248 lives in South Sudan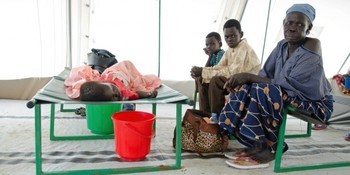 File photo: MSF/Nick Owen
At least 248 people have died from cholera outbreak across 19 counties in South Sudan since the initial outbreak was officially declared in June 2016, a UN agency said on Sunday.
The UN Office for Coordination of Humanitarian Affairs (OCHA) said in its weekly bulletin that as at May 15, 8,160 cholera cases had been reported since the initial case was recorded on June 18, 2016.
"While the outbreak initially spread to counties along the River Nile, counties most recently affected are increasingly distant from the River. Nine out of the 19 counties affected by the cholera outbreak since June 2016 have reported cholera cases in the past four weeks and are considered to have active transmission of the disease," OCHA said.
The UN agency further said health experts have highlighted that the number of cases recorded could be as little as 10 per cent of the overall number of cholera cases occurring during the outbreak.
Children and young adults under 30 years are the most affected, constituting 70 percent of the cases, According to OCHA.
OCHA pointed out that this is the longest, most widespread and most deadly cholera outbreak since South Sudan became independent.
In the 2014 outbreak, 6,421 cases were reported, including 167 deaths, over eight months, while in 2015, the cholera outbreak lasted five months and affected 1,818 people, including 47 deaths, in three counties.
"The response has been challenging, however, due to the locus of many outbreaks in cattle camps, remote and militarized locations, ongoing population displacement, and insecurity in areas affected by the outbreak," said OCHA.
It expressed concern that the outbreak will intensify and spread during the upcoming rainy season due to continued conflict, displacement and inadequate access to clean water and sanitation.
Cholera is a bacterial disease usually spread through contaminated water. Cholera causes severe diarrhoea and dehydration. If left untreated, cholera can be fatal in a matter of hours, even in previously healthy people.