UN: blocking of news websites contradicts commitment to create conducive environment for national dialogue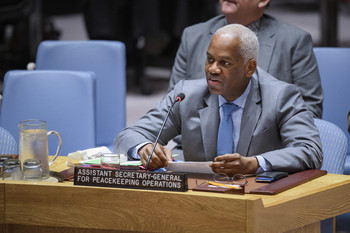 File photo:UN Assistant Secretary-General for Peacekeeping Operations El Ghassim Wane
The UN Assistant Secretary-General for Peacekeeping Operations said South Sudan government's decision blocking news media websites seemed to contradict official commitments to create an environment conducive to conducting the national dialogue launched by President Salva Kiir.
Briefing the UN Security Council on the situation in South Sudan on Thursday, El Ghassim Wane said every effort should be made to ensure that the national dialogue was inclusive and transparent, with outcomes that complemented the 2015 peace accord and supported by a sufficiently broad consensus on the part of all the country's political forces.
The UN official further said the success of an Intergovernmental Authority for Development (IGAD) proposal to revitalize the 2015 peace agreement in the country would hinge on the degree to which the government and opposition embraced it and committed to its implementation.
El Ghassim Wane called the Intergovernmental Authority's initiative an important development.
He encouraged the Council to once again express full support for the IGAD‑led process and to urge all stakeholders in South Sudan to embrace it. He also underlined the importance of unity of purpose within the region, adding that the international community must send a strong message to South Sudanese leaders on all sides that the status quo was unacceptable and unsustainable.
"A change of behaviour is long overdue and the pursuit of political objectives through violence — for which the people of South Sudan continue to bear a heavy toll — should not be allowed to continue," he said.
Wane said the peace process in South Sudan faced numerous challenges that must be overcome to make the most of the opportunity created by the deployment of the Regional Protection Force in Juba and to put South Sudan back on a track to peace and stability.
Describing the security environment as volatile, he said that, since the government announced a unilateral ceasefire in June, active military operations had been reported in the Equatoria region and in Upper Nile State.