UN backs deadline for unity government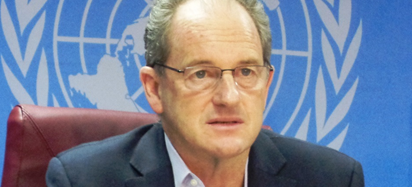 Photo: UNMISS chief David Shearer
The United Nations Mission in South Sudan (UNMISS) said a transitional unity government should be formed by 12 November as originally planned.
Speaking at a press conference in Juba on Wednesday, David Shearer, the head of the UN Mission in South Sudan (UNMISS) said the deadline should stand and that there should be no more extensions.
"We are of the view that it would be best if we were able to form a transitional government on the 12th of November, that the opposition comes into that transitional government and that the progress is continued within a transitional government where everybody is sitting around the table and is able to move that on," he said.
"And, as I mentioned here, there is a lot of work that needs to be completed by the pre-transitional period but there is no reason that a transitional government cannot take up that unfinished business and continue it on. I think it is very important that we maintain the momentum of the peace process," he added.
The UN official pointed out that the recent face-to-face meeting between President Salva Kiir and opposition leader Riek Machar demonstrated that the two leaders were willing to work together in peace.
"The president said some very positive things about Riek Machar and Riek Machar came up to him and shook his hand very warmly, and I understand that, even after that, they went off and had a couple of hours of private meetings between themselves. So, I think, overall, that the dynamics around that meeting were very good," he said.
"Secondly, I think there was a pretty clear feeling that the transitional government, if at all possible, should be formed on the 12th of November. And I understand that Riek Machar talked about leaving his Secretary-General of the SPLM-IO here in Juba to start working towards making that possible," he added.
Shearer revealed that the world body is stepping up the deployment of peacekeepers to remote communities to provide a protective presence for the people returning to their homes. "Ultimately, it is the primary responsibility of South Sudan government to establish conditions needed for displaced families to return safely," he observed.
Shearer said Security Council members will visit South Sudan this month. "The Security Council signalled its strong desire for the momentum of the peace process to be maintained. So much so, that they are traveling as a group to South Sudan towards the end of this month to see the situation first-hand and to put their weight behind the political process," he noted.
While addressing the UN General Assembly last week, South Sudan's First Vice-President Taban Deng Gai said the transitional government will be formed by November 12.
President Salva Kiir, opposition leader Riek Machar and a number of other opposition groups signed the peace agreement in September 2018, but the rival leaders had been unable to create a unified army and determine the number of states since the deal was signed.