UN, AU, IGAD reject government's threats against CTSAMM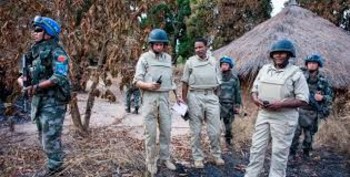 The United Nations and two African bodies have rejected and condemned the recent threats directed towards the international ceasefire monitoring body, known as CTSAMM, by some senior officials of South Sudan's government for carrying out its mandate.
South Sudan cabinet affairs minister Martian Elia Lomuro expressed frustration recently saying they reported 31 attacks on the government positions but the CTSAMM did not investigate. He criticized the latest report of the peace monitoring body saying "it is not consistent with facts".
In a joint statement after consultative meetings on the current situation in South Sudan on Saturday, the U.N., African Union, and the East African Intergovernmental Agency on Development strongly condemned the threats and violations of the 21 December 2017 agreement on Cessation of Hostilities, Protection of Civilians.
The bodies said parties that violated the ceasefire agreement must be held accountable and urged the unity government, and all South Sudanese parties to focus on the higher goal of the national interest, and securing the future of South Sudan.
The three groups reaffirmed their belief that there can only be a political solution to the conflict in South Sudan, and the parties must demonstrate a strong will to an inclusive and revitalized peace agreement.
The AU, IGAD and UN expressed their full support to the successful conclusion of the second phase of the High-Level Revitalization Forum under the leadership of IGAD which is scheduled to be held starting in the first week of February 2018. They also called on the parties to participate in the Forum in good faith and with a view to reaching a compromise and bringing South Sudan back to the path of sustainable peace.