UN, AU delegations met Kiir over peace process in Juba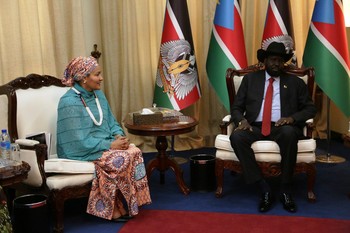 Photo:UN 's Deputy Secretary-General Amina J Mohammed during a meeting with the country's President Salva Kiir (UNMISS)
The United Nations Deputy Secretary-General Ms. Amina Mohammed on Wednesday together with an African Union delegation met South Sudan's President Salva Kiir Mayardit in Juba and discussed the on-going peace process in Khartoum with a special emphasis on women participation.
Speaking to the press after the meeting at the state house, Ms. Amina Mohammed said they discussed affirmative action for women at all levels.
"We also spoke about women rights, women participation in the peace process and in the elections and in a number of other places where we don't see them and we would like to see more women in the decision making. The president response was all very positive. He believes in peace and the accord will be signed," she said.
Amina revealed that they also discussed confidence building mechanisms once the peace deal is signed to ensure that it holds.
A government representative said the president assured the delegation that his government is ready to undertake inclusive participation of women in all sectors.