UN: 25 aid workers evacuated from Pagak over escalating clashes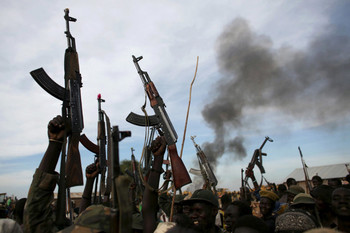 File photo: Rebel fighters hold up their rifles as they walk in front of a bushfire in a rebel-controlled territory in Upper Nile State in 2014. (REUTERS)
Thousands of civilians have reportedly been displaced from Mathiang area in Longochuk County of Upper Nile following an offensive allegedly by government troops which began approximately one week ago.
The reports of an offensive come as the world's youngest nation marks its sixth anniversary of independence.
The United Nations said at least 25 aid workers from different humanitarian organizations were on Friday and Saturday relocated from Pagak, an area established by Riek Machar as the opposition headquarters when civil war broke out in 2013.
The United Nations also said more than 50,000 civilians in Longochuk and Maiwut counties have been cut off from assistance in key locations, including Mathiang, Maiwut and Pagak, as a result of the escalating insecurity and relocation of aid workers.
Aid agencies expressed concern regarding the plight of civilians in areas affected by the clashes and called on all parties to uphold their responsibilities under international humanitarian and human rights law to protect civilians, and to provide free, safe and unhindered access for humanitarian organizations to return to these areas as soon as possible.