UJOSS demands release, speedy trial of arrested journalist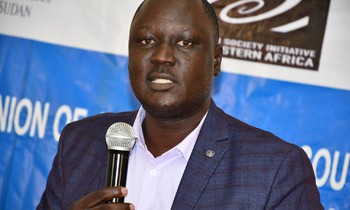 File photo: Oyet Patrick
The Union of Journalists of South Sudan (UJOSS) is concerned about the continuous detention of SSBC journalist Alfred Angasi Dominic and demands that he is produced before a competent court.
Angasi, who works at the South Sudan Broadcasting Corporation as a newsreader, was first arrested on 2 July for not reading news content which included President Salva Kiir's decrees announcing members of the Council of States.
He was released on 4 July but again rearrested on 5 July and to date, he is under detention.
In an interview with Radio Tamazuj on Saturday, the UJOSS president, Oyet Patrick Charles, said the government should produce journalist Alfred Angasi before a competent court of law if he is suspected of any crime.
"We are very concerned about the re-arrest and continuous detention of Alfred. He has been released and again he has been arrested. We demand that if Alfred is a suspect of any crime, he should be produced before a competent court of law to answer charges of whatever crimes they are suspecting him of," Oyet said.
The Union chairperson says the issue should have been an internal administrative one at SSBC but by virtue of it being handled at the level of the National Security Services shows an overlap of authority.
"Our position as a Union of journalists is that he should be produced in a competent court of law if he is suspected of committing any crime and we take it from there. We believe that this is not good for journalism because this is a managerial issue according to our investigation, it should have been handled at the station where he works, and it was not handled there. But the issue as far as we are concerned does not involve security, and if there is anything, let him be produced before the court," he said.
Oyet stressed that Mr. Angasi should be set free and brought back to SSBC for SSBC to settle his case because it is administrative.
He pointed out that the union will continue to work to ensure journalists get a good climate to operate in. Oyet says they will also work with other agencies, including the National Security Services to ensure mutual understanding for the development of South Sudan.
According to SSBC Managing Director, Magok Chillim, Angasi was supposed to be released on Thursday (15 July 2021) but he speculated that the delays to free him could be due to pending investigations.
"He is supposed to be released but I have not checked him yet but I will check. That means investigations are not yet done," SSBC Managing Director said.