Ugandan police arrest four South Sudan refugees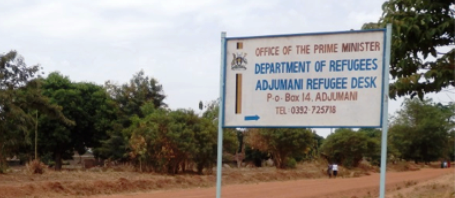 The police in Uganda arrested four South Sudanese refugees after a search for guns conducted in Adjumani district last week, a South Sudanese religious leader has disclosed.
Speaking to Radio Tamazuj on Sunday, Fr. Martin Vuni said the four were arrested after police found South Sudan army uniforms and boots in their house on 24 August.
He identified those arrested as Lagu Isaac Jabakana, Alimas Francis, Gama Joseph and Arapa Paul El-Moi.
"A motorbike without a license, boots and a South Sudanese army uniform were found in the house of Lagu Jabakana. The uniform actually belonged to Duku, a cousin of Lagu, who died in Yei in 2017," Vuni said.
"The uniform was brought to the home of Lagu. Culturally, the boots and clothes of the deceased were to be given to the uncles when they perform the final ritual. This has not been done. That was why the uniform was still in the house of Lagu," he explained.
The police took a South Sudanese passport, nationality card and a camera from Gama's home after the search operation, according to the religious leader.
He further said the four refugees were initially detained at the police station in Adjumani town, but were later transferred after two days to an unknown location.
Vuni pointed out that the whereabouts of those arrested were still unknown. "The police declined to disclose the whereabouts of the arrested refugees when asked by the family," Vuni said.
He urged Ugandan authorities to either release the four refugees in their custody or take them to court if they committed any offence.