Ugandan driver shot along Juba-Nimule road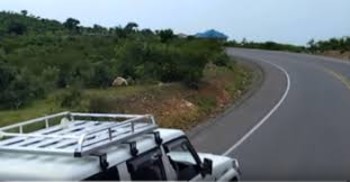 A Ugandan driver was wounded after attacks by unknown gunmen along the Nimule-Juba road on Monday, police authorities said.
The Monday morning incident took place near Nesitu area, about 92 kilometres from Uganda-South Sudan Nimule border point.
South Sudan's Police Spokesperson Daniel Justin Boula told Radio Tamazuj that the Ugandan national was wounded after being shot by unknown gunmen. He pointed out that the attack started two vehicles.
Meanwhile, Aswa Regional Police Spokesperson Jimmy Patrick Okema told journalists at press briefing in Uganda's Gulu town that the driver was shot while driving a Fuso lorry registration UPD53H which had two other traders.
He identified the wounded Ugandan driver as David Sekajabi.
He pointed out that Sekajabi, a resident of Masaka District in Central Uganda has been admitted at St Mary's Hospital Lacor in Gulu town for medical treatment.