Ugandan army arrests ex-South Sudanese rebel commander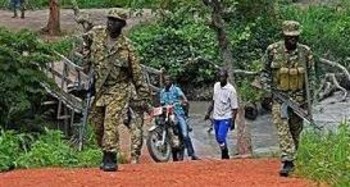 Ugandan army officials patrol near the Kaya River at the South Sudanese border point on July 30, 2017/UNHCR
The Uganda People's Defense Forces (UPDF) arrested a former South Sudanese rebel commander, Colonel John Tata in Oroba area, and accused him of recruiting Ugandan youth, a senior former rebel official said on Monday.
Brigadier General Hilary Yakani, chief negotiator of the SPLA-IO breakaway group that signed a peace deal with the government of Yei River State, told Radio Tamazuj that Colonel Tata was arrested by the Ugandan army in the area of Oroba along the Uganda-South Sudan borders since the last two months.
Yakani pointed out that his colleague was arrested by soldiers of the Uganda People's Defense Forces, but was later transferred to police authorities in Koboko, a town in northern region of Uganda.
"So during the follow-up on the case, we were told that Tata's former comrade has accused of recruiting people from Uganda. The guy who accused Tata was even part of the peace agreement we signed in Kampala. The man who accused Tata is called Wani but he claims to be a Ugandan national," Yakani said.
The former rebel official pointed out that the government of Yei River state is planning to dispatch a team to Uganda to find a solution to the issue. "We are partners of the government because we have signed a peace agreement in Yei River State," he said.
Government officials in Yei town declined to comment on the matter, but Ugandan military officials could not immediately be reached for comment.
South Sudan descended into civil war in 2013 after President Kiir sacked his deputy, Riek Machar.