U.S. sanctions Benjamin Bol Mel over corruption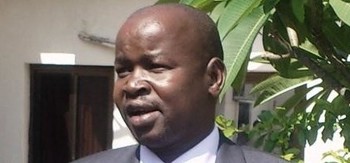 File photo: Benjamin Bol Mel
The Trump administration on Thursday announced sanctions against 52 people and entities from around the world over alleged human rights abuses and corruption, including Benjamin Bol Mel of South Sudan.
"Today, the United States is taking a strong stand against human rights abuse and corruption globally by shutting these bad actors out of the U.S. financial system. Treasury is freezing their assets and publicly denouncing the egregious acts they've committed, sending a message that there is a steep price to pay for their misdeeds," said Secretary of the Treasury Steven T. Mnuchin.
"At the direction of President Trump, Treasury and our interagency partners will continue to take decisive and impactful actions to hold accountable those who abuse human rights, perpetrate corruption, and undermine American ideals."
Benjamin Bol Mel is the President of ABMC Thai-South Sudan Construction Company Limited (ABMC), and has served as the Chairman of the South Sudan Chamber of Commerce, Industry, and Agriculture.
Bol Mel has also served as President Salva Kiir's principal financial advisor, has been Kiir's private secretary, and was perceived within the government as being close to Kiir and the local business community. Several officials were linked to ABMC in spite of a constitutional prohibition on top government officials transacting commercial business or earning income from outside the government.
Bol Mel oversees ABMC, which has been awarded contracts worth tens of millions of dollars by the government of South Sudan. ABMC allegedly received preferential treatment from high-level officials, and the Government of South Sudan did not hold a competitive process for selecting ABMC to do roadwork on several roads in Juba and throughout South Sudan. Although this roadwork had been completed only a few years before, the government budgeted tens of millions of dollars more for maintenance of the same roads.
The sanctions are under a U.S. law called the Global Magnitsky Human Rights Accountability Act, which was passed into law last year.