U.S. Amb. Adler: Leaders share responsibility to bring the transitional period to successful, peaceful conclusion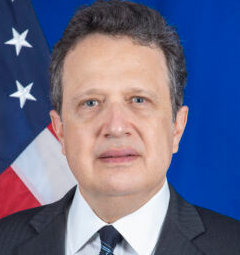 U.S. Ambassador to South Sudan Michael J. Adler. (Courtesy photo)
The Ambassador of the United States to South Sudan on Thursday said building a culture of peace requires individual and collective commitment to work together and find compromise where necessary.
Amb. Michael J. Adler was speaking on behalf of the Troika at a ceremony to mark the International Day of Peace in Juba on Thursday.
"I note that the 2023 theme for the International Day of Peace in South Sudan is "Me and You for Peace in South Sudan." It requires leaders who take action to find common ground and deliver on promises they have made, including their sacred promises to the South Sudanese people," he said. "It requires leaders who place the interest of their people over personal interests.  All of South Sudan's leaders share collective responsibility to bring the transitional period to a successful and peaceful conclusion."
According to Amb. Adler, a culture of peace does not thrive in an environment where leaders blame political rivals for inaction yet eschew their responsibilities.
"The United States and our Troika partners have a longstanding commitment to the success of the South Sudanese people in achieving a future of peace, democracy, and prosperity. As the South Sudanese people look at the year to come, they have the right to expect a free, fair, and peaceful election," he said. This can only take place if the transitional government meets its responsibility to achieve the essential peace commitments for such an election to be possible."
The envoy counseled that all should take into account the recent statement made in New York by the Special Representative of the Secretary-General Nicholas Haysom, in which he noted that critical questions remain unanswered and that resolving them does not require material resources, but the political will to reach compromise and consensus.
"The time between now and December 2024 is short.  People who sincerely wish to see a free, fair, and peaceful election take place may determine that some of the actions the 2018 peace agreement states should take place during the transitional period must be postponed until after elections take place," Adler noted.  "This delay can only be justified if essential to achieve those commitments that are necessary for free, fair, and peaceful elections without further extension of the transitional period."
"Any such determination must be South Sudanese and arrived at in a consultative manner, not -- to use Mr. Haysom's words – through unilateralism or brinksmanship from any party," he added.
Adler said that one non-negotiable element for an election must be political and civic space to allow freedom of expression for all South Sudanese political parties, candidates, and citizens.
"The responsibility to establish this space rests with the transitional government.  Relevant legislation necessary to establish this political and civic space must be passed and implemented," he said. "Another key requirement is security sector reform. We are troubled by the delay in establishing the Necessary Unified Forces.  Those who obstruct progress toward this goal are harming the interests of the South Sudanese people."
The diplomat stated that a culture of peace requires more than political and civic space, as well as security requirements, and requires equal access to economic opportunity and the transparent use of public revenue to meet public needs.
"Today, the largest portion of South Sudan's public revenue—including the majority of its oil revenue—is spent on roads; yet, the South Sudanese people are seeing almost no benefit from this spending," he charged. "Instead, non-payment and under-payment of civil service and security sector salaries are affecting government capacity and serve as primary drivers of criminality and corruption."
"The transitional government relies overwhelmingly on international assistance to provide healthcare and for the humanitarian needs of refugees, returnees, and people displaced by the latest conflict in Sudan and from years of instability here in South Sudan," Adler added.
He said that the budget for the 2024 fiscal year does not include sufficient spending to carry out activities needed to hold elections next December.
"As representatives of donor countries, we are obligated to our taxpayers, and to the South Sudanese people we seek to support, to call on South Sudan's leaders of all parties to prioritize use of public revenue in a manner that treats the South Sudanese people as their priority," Adler observed. "This means the transitional government taking greater responsibility: to provide basic services, including health and education, to its citizens; to pay public sector salaries on time, including those for security forces, health workers, teachers, in a transparent and accountable manner; to increase its contribution to humanitarian assistance to its people who are in greatest need; and to plan responsibly to fund the electoral process."
Adler said that for too long, the South Sudanese people and international donors have failed to see progress in these areas. 
"We have also failed to see accountability for human rights violations, including gender-based violence, and measures to prevent corruption," he said.