Two rebel intelligence agents killed in Torit town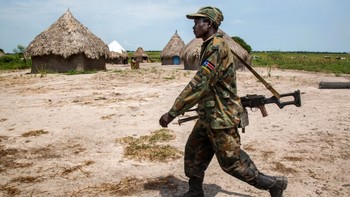 File photo: A soldier in Upper Nile (Albert Gonzalez Farran/AFP/Getty Images)
Two security officials allied to the armed opposition faction led by rebel leader Riek Machar were killed and another was injured after an ambush by government troops in Torit town on Thursday, a spokesman for the rebel group said.
"Three of our combat intelligence agents went to Torit to carry a survey but they were ambushed, one was killed from us but we killed two from government and injuring one," Lam Paul Gabriel, deputy military spokesman of the SPLA-IO told Radio Tamazuj today.
He pointed out that their forces had attacked New Site area in Kapoeta State on Thursday but they withdrew." We left New Site. We are not in New Site now," he said.
Lam did not give more details about clashes in the area of New Site on Thursday.
The rebel spokesman also claimed that they were controlling Ombachi area in Yei River State after clashes with government forces last week.
Radio Tamazuj could not reach government officials to comment Lam's claim.