Two killed in brawl during wrestling match in Eastern Lakes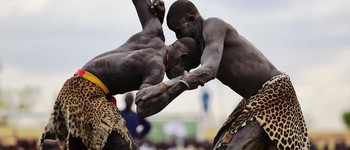 File photo: Carl de Souza/AFP
At least two people were killed and 10 others wounded in a fight between members of the Akuei and Apuk communities in Awarial County in South Sudan's Eastern Lakes state on Wednesday evening, a local official said.
Awarial North County Commissioner Juk Blawi Manyot told Radio Tamazuj on Thursday that two young men were killed and 10 others wounded when a brawl broke out at a wrestling match.
He indicated that the civil administration and families intervened immediately and the fight was topped. The county official called on the local youth to shun tribalism and embrace peace and dialogue.
Wrestling is a popular sport among South Sudan's dozens of ethnic groups, and has long been a way for young men to test their strength without resorting to bloody violence.