Two elders in Nairobi to convince Malong not to join rebellion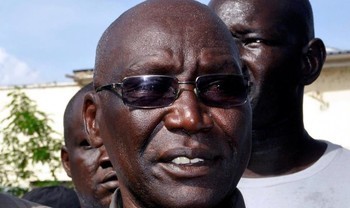 File photo: Paul Malong addresses the media after returning to Juba, May 13, 2017. REUTERS.
Two South Sudanese elders are currently in the Kenyan capital Nairobi to persuade the country's former army chief Gen Paul Malong Awan not to fight the government, President Kiir's official spokesperson said.
Ateny Wek Ateny told Radio Tamazuj today that Francis Mading Deng and Joshua Dau held a meeting with Paul Malong in Nairobi. However, he didn't give more details about the outcomes of the meeting.
He pointed out that the two elders want to persuade Malong to stop from trying to carry out subversive activities in the country.
The presidential spokesman pointed out that Kiir accepts any peace initiative with the former military chief Paul Malong.
However, Ateny insisted that the former army chief has rebelled against the government. "Malong has already rebelled against the government, so the recent statement he issued is nothing to us," he said.
Ateny urged Paul Malong not to carry out subversive activities and return to South Sudan for the sake of peace and stability.