Twic South commissioner concerned over rising insecurity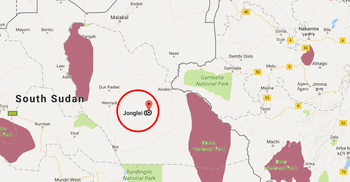 Authorities in Twic South County of South Sudan's Jonglei state are calling on the national government and neighboring states authorities to address the rising insecurity in the region.
Twic South County commissioner Daniel Deng told Radio Tamazuj on Saturday that cases of insecurity are reported frequently making locals live in fear.
He said two people were killed and two children abducted last Wednesday in Paliou area by armed men suspected to be from a neighboring state.
"On Wednesday, criminals came from an area in Boma and abducted 2 children and killed a woman and a man in the same house," he said.
Deng further added that on Friday, a group of armed men raided over 1,000 cattle but the cattle were later recovered.
"Yesterday (Saturday) the criminals also came and raided cattle but the area youth were able to recover the cattle," he added.
Commissioner Deng said despite confrontations between the youth and raiders, no casualties were reported during the incident.
He said the frequent insecurity has hampered agriculture in his county as locals fear to go to their farmlands.
Deng urged the national and neighboring Boma state governments to initiate dialogue among citizens of greater Jonglei to normalize the security situation.