Twic, Aweil East, Abyei leaders pledge to boost cooperation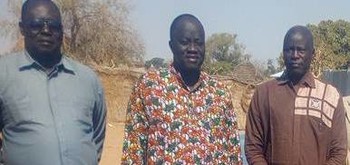 Peace and security meetings that brought together the governors of Twic and Aweil East states, besides the chief administrator of Abyei administrative area was concluded in Wanyjok town, the capital of Aweil State.
Local officials also pledged to promote peace during the meetings held on 20 January following the visit of the governor of Twic state Kon Manyiel and the chief administrator of Abyei area, Kuol Alor Kuol Arop.
The two governors and the chief administrator signed a communiqué on cooperation and coordination. General Dau Aturjong, the SPLA army's third infantry division in the greater Bahr al Ghazal region, also took part in the meeting.
Aweil East Governor Deng Deng Akuei told Radio Tamazuj on Tuesday that the meetings he has had with the two officials were fruitful.
"The meetings I have had with my counterparts were fruitful and healthy. They were fruitful in the sense that such visits are not just pioneering work and playing an important role in the extension and enhancement of education and progress in sports and information sharing on security and developmental issues, but would also enhance mutual trust and cooperation among our communities along the common borders with these areas," he said.
Daniel Akol Diing, Aweil East state information minister, said that the leaders agreed to work together to boost cooperation in all areas of mutual benefits and to strengthen harmony.
He said the meetings have also called for coordination on local and regional issues to safeguard communal peace and development.
The state information minister explained that the bordering states should maintain close links to add new vigor to the already existing ties.
The state official confirmed his government's readiness to work with the neighboring states and Abyei administrative area.