Troops deployed to quell violence in Tonj East County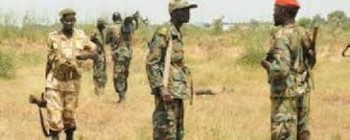 File photo: SSPDF soldiers in Upper Nile. (Radio Tamazuj)
Warrap State authorities have deployed troops to deter violence between rival communities in Tonj East County, a local official said.
Maluach Garang Maluach, the acting secretary general of the defunct Tonj State, told Radio Tamazuj on Wednesday that more than 800 organized forces had been deployed to Tonj East County to quell intercommunal violence.
Maluach pointed out that the conflict in Tonj East has reached a level never experienced before. He cited burning of houses, rapes and killings as some of the common causes of conflicts among the communities in the area.
"The 800 forces have been deployed to quell the violence because it has reached an extent burning down houses," Maluach explained.
He said the deployment has covered Ngapaguok, Wunlit, Rumic Lang Chok, Marial Lou and other areas to prevent further violence.
The local official further urged the national government to disarm all civilians in the country.