Troika excludes Machar from peace revitalization meetings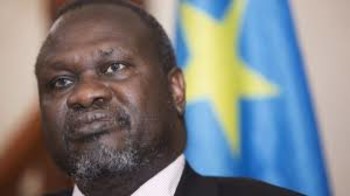 File photo: Riek Machar
The members of the Troika (the UK, US and Norway) have decided to exclude South Sudan rebel leader Riek Machar from preliminary meetings of the revitalization process, a senior opposition official said.
Manawa Peter Gatkuoth, a senior opposition official loyal to Machar, told Radio Tamazuj on Monday that the members of the Troika have informed them officially that Machar will not be invited to the preliminary meetings for the peace process, which is aimed at revitalizing the 2015 peace agreement between the rebels and government.
He pointed out that Riek Machar will not attend the first meetings of the upcoming high-level forum aimed at revitalizing the August 2015 peace agreement in South Sudan, but he will be represented at the meeting by members of the opposition group.
For his part, South Sudan's Cabinet Affairs Minister, Martin Elia Lomuro, told reporters in Juba on Monday that President Kiir held a meeting with members of the Troika and they discussed the revitalization process.
He pointed out that the meeting also discussed the participation of South Sudan rebel leader Riek Machar through his representatives.
The upcoming revitalization forum is an initiative spearheaded by the East African regional bloc IGAD during a meeting held in July. Regional leaders acknowledged the 2015 peace accord has not been implemented fully.