Troika condemns breaking up of youth meeting in Juba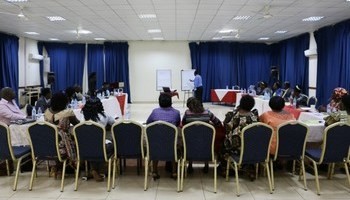 File photo: Civil society meets to form a transitional justice working group. (UNDP)
The members of the 'Troika' — the United Kingdom, United States, and Norway — condemned the breaking up of a meeting of youths in Juba for a briefing on the results of the second round of the peace talks.
On Wednesday, National Security Service agents forced the participants to end the meeting prematurely.
"This kind of action to intimidate civil society and limit the flow of information surrounding the peace process is unacceptable and counterproductive," the Troika group said in a joint statement on Thursday.
"We note the participants were meeting with the Forum's Youth Representative, an officially recognized stakeholder of the HLRF and signatory to the December 21 Cessation of Hostilities (CoH) Agreement," adds the statement.
The Troika reiterated the critical importance of the HLRF parties creating a conducive environment for peacemaking. "We once again call on all parties to make good on their promises to implement the CoH, which includes provisions on protecting the rights of civilians and ensuring the protection of civil society," it said.
The three countries urged the government of South Sudan to respect the rights of its citizens and recognize the positive role of civil society groups.
Separately, members of the Youth Coalition on the High-Level Revitalization Forum (HLRF) and Civil Society Forum said they are outraged and disheartened by the action of National Security Service personnel, who interfered with and closed a meeting to brief the youth on the second round of peace talks.
"About 70 youth representatives from different organizations gathered for the debriefing on outcomes of the second phase of the HLRF. Speakers in the event included an official youth representative at the HLRF. However, half way through the event, two individuals who identified themselves as NSS personnel stormed the venue of the event and ordered the organizers to immediately end the program," the youth coalition said in a statement.
"The Youth Coalition deplores this interference and restrictions on citizens' fundamental freedoms and liberty. Any peaceful meeting of the youth on the HLRF is never a threat to national security of the Republic of South Sudan," adds the statement.
The group urged South Sudan's national security officials to stop the encroachment on civic spaces seeking to constructively contribute in the efforts to bring about peace in the country.