Troika concerned over govt troops' movement into Jonglei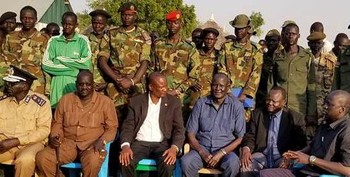 The Troika countries have expressed concern over continuing reports of the movement of forces by warring parties in South Sudan in violation of the ceasefire agreement, including the movement this week of hundreds of government troops into Jonglei state.
In a Friday statement, Norway, the United Kingdom and the United States strongly condemned the continuing pattern of violations of the December 21, 2017 cessation of hostilities agreement by parties to the revitalization process, and called on all parties to immediately and fully implement the agreement in letter and spirit and ensure humanitarian access throughout the country.
The Troika said it has seen strong evidence of violations of the ceasefire agreement by government of South Sudan forces in Unity State and by forces associated with opposition groups, including Sudan People's Liberation Movement-In Opposition (SPLM-IO), in Unity State and the Greater Upper Nile region, as witnessed by ceasefire monitors.
The Troika also noted with grave concern the strong evidence from multiple sources linking the attacks in Gudele, Jubek State, on January 4 to former SPLA Chief of Defense Paul Malong and forces under Lt. Colonel Chan Garang Lual, an SPLA-IO commander.
"We remain committed to holding to account all those who obstruct the realization of lasting peace for the people of South Sudan, whether or not they are participating directly in the Forum," the group said.
"The HLRF process must be conducted in the spirit of compromise by those South Sudanese leaders who are committed to working for peace. Parties must not be able to increase their influence through force of arms in advance of the second round of talks," it added.
The Troika reaffirmed its full support for the Intergovernmental Authority on Development's (IGAD) efforts to build peace in South Sudan.
"We call on our IGAD partners to rapidly investigate all violations and to immediately hold those responsible to account," the three countries said.
"We will continue to work closely with international and regional partners to ensure full accountability with respect to the CoH and stand ready to impose consequences on those who violate the agreement, also in line with the African Union Peace and Security Council Communiqué of September 20, 2017."