Troika 'appalled' by dire security situation in South Sudan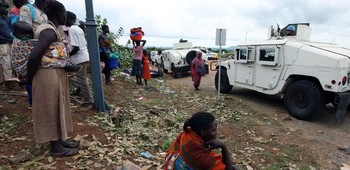 File photo: Displaced civilians leave the UNMISS base in Juba, after seeking refuge at the base in the wake of clashes in Juba in 2016 between soldiers of the Sudan People's Liberation Army (SPLA) and the SPLA in Opposition (SPLA-IO). UN Photo/Eric Kanalstein
Members of the Troika (Norway, the United Kingdom and the United States) released a joint statement Thursday saying they remain appalled by the dire economic, security, human rights, and humanitarian crisis being inflicted on the long-suffering people of South Sudan as a result of the conflict.
The Troika said all parties in South Sudan must end hostilities as a sign of their commitment to the High Level Revitalization Forum (HLRF), which is aimed at implementing the 2015 peace deal.
The revitalization forum, spearheaded by the Intergovernmental Authority on Development (IGAD), is set to take place this month in the Ethiopian capital, Addis Ababa.
The three countries, whose representatives recently traveled to South Sudan, Sudan, Ethiopia, Uganda, and Kenya to try support the upcoming revitalization forum, said all parties in South Sudan have a responsibility to the people of South Sudan to participate constructively and to be open to real compromise.
The group called on South Sudan's government in particular to end its pursuit of "military victory" and make good on its promise to end obstruction to humanitarian assistance. It also called on the armed opposition to end all military activity and lift any barriers to humanitarian access.
The Troika emphasized that all parties to the conflict must negotiate in good faith and work to amend sections of the agreement that no longer reflect the reality of conditions in South Sudan, particularly those related to power sharing, timelines, and transitional security arrangements.
"Troika will continue to identify and hold responsible those who work against peace, including through economic and other sanctions. They will also act against those who use their positions to fuel conflict and steal from the South Sudanese people and those who facilitate their illicit financial activities," the group said.