Trial of soldiers accused of rape, murder stalls again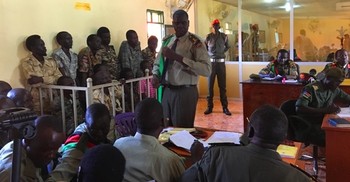 Photo: A military courtroom in Juba where the trial of 12 SPLA soldiers resumed on 20 June, 2017. (Radio Tamazuj)
The trial of 12 SPLA soldiers accused of raping foreign aid workers and murdering a local journalist stalled again on Tuesday before military court to due to absence of witnesses and rape victims who are abroad.
The trial concerns an attack on the Terrain Hotel, home to many foreign aid workers. The incident occurred in Juba on July 11 last year as President Kiir's troops won a battle over opposition troops loyal forces loyal to former Vice President Riek Machar.
Chief prosecutor Lt. Col. Mayiel Jek submitted the death certificate for the local journalist from Juba Teaching Hospital, the medical records of the foreign aid workers who said they were raped from the Nairobi Hospital and logbooks of 9 vehicles that went missing.
"The court has accepted it as prosecution documents," Brig. Gen Neath Almaz, president of the military court said during today's hearing.
Almaz summoned the doctor who carried out medical examination of sexual assault cases in Nairobi to appear before the military court in Juba on 4 July. The president of the court also decided to visit the scene of the attack on 3 July before the coming hearing on 4 July.