Transcript: Kiir's speech at Juba airport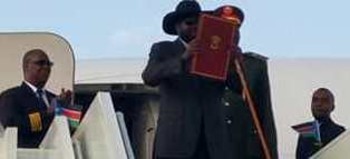 South Sudanese President Salva Kiir delivered a speech to a gathering of citizens who went to Juba International Airport to receive him this evening.
He addressed a number of political issues relevant to the current situation and the peace agreement he signed with the opposition in Khartoum on Sunday.
The president spoke in a mix of English and South Sudanese Arabic. The speech transcribed below is presented near verbatim, with some redaction for length.
Speech at Juba Airport
The red file I am showing you is the peace agreement. I want you to see it once again. This is the peace agreement signed by all opposition groups, and if there is someone saying the agreement is not yet signed, he or she is a liar. I have just heard from the security personnel, the First Vice President and the Vice President that those who are in the bush are still attacking people. They attacked people on the road to Torit, they attacked people in Yei and attacked people in Western Bahr el Ghazal, but what is the reason?
Five vice presidents
There are five vice presidents under the terms of the peace agreement. Our two vice presidents out of the five are here. Initially, Riek Machar rejected Taban. He said Taban should not be part of the government. I even told him that I don't want to work with you. President Bashir and President Museveni intervened and told Riek that now you have your allies, those who were together with you in the bush. They told him that Salva has no right to tell you not to bring in your allies, and at the same time, you cannot tell Salva to send his allies home. So, he was advised that let Salva be with his people.
Dispute over states
The first condition was the number of the states. He [Machar] said he did not want the issue of the states, and proposed that South Sudan should revert to the 10 states so that we return to the 10 states we got from Khartoum after we came in 2005. I said Riek, you are staying outside, and if you tell people inside that your states have been dissolved, they will not accept it.
I told him that you have stayed in Pagak which is part of Maiwut. But if you tell people there that they will be annexed to Nassir, they will fight. If you tell Lou Nuer that Bieh should be annexed to Akobo, nobody will accept it, so I told Riek that my brother, you are just playing with fire.
Go to Amadi and tell them to be part of Mundri or Maridi. I am sure nobody will accept it, so he was asked to drop his condition so that he can be accepted to become a vice president, so that was my compromise. I have actually accepted him to be the first vice president.
Power sharing at the local level
You are aware that in the agreement we had signed in 2015, the power sharing ratio stops at the state level only, and does not reach counties. The issue of county commissioners and administrators in Payams was not there. Riek Machar's chief negotiator that time was General Taban, and General Taban is here with us, so he cannot tell us that it was there in the agreement.
So, we don't have any problem here but it is because Riek Machar and his friends do not want a peace agreement because there are people who tell them behind there that this government will be overthrown so that you take over power. Even if we are expelled today and they are brought to power, for how long will they stay in power before you overthrow them?
Kiir forgives opposition groups
I told them that we will forgive you for all the atrocities that you have committed; this is what I said yesterday that we have to forget the past. I have called upon them to come back. I have not come with my negotiating team because they are still working on implementation modalities, so this is what they are doing and they are supposed to complete it. Within very few weeks, they will join us here, so that will be the time we will celebrate in a bigger way.
Invitation to African leaders
We are going to invite President Bashir himself, Ethiopian Prime Minister, President Museveni of Uganda, President Paul Kagame who is the chairman of the AU, President Uhuru Kenyatta who is the rapporteur, the Prime Minister of Somalia, and President of Djibouti, so all IGAD leaders will be invited to come here. As I was coming to the airport this afternoon, I met President Bashir and asked me to pass his greetings to the people of South Sudan.
You might have listened to President Bashir's speech yesterday night. He said he has a moral responsibility to help bring peace in South Sudan because he was a president for all Sudanese when the country was still one.
Military offensive
Everyday we hear that there are people being attacked. But we have never launched any offensive. If I give orders to the military generals you are seeing to move tomorrow morning, do think they will find a base in the bush?
Kiir meets breakaway group
Someone called Julius Tabuley from Kajo-Keji came to me. He came with four others who are his commanders. Two commanders among them are from Dinka, both of them are from Bor, so I asked them two questions. They said they came to join the government but they are still with their organization that was being led by Thomas Carillo.
So, they decided to be with the government with one leg and one leg in the bush. I told them that this is an old game. There is no servant that can serve two masters at the same time. You have not designed your plan very well.
I told Michael who is a Dinka that the slogan of Thomas Cirillo and his group, those of Tabuley, they say they are fighting against the Dinka ethnic group, how did you join them? He said they changed that slogan, I said: No, you cannot convince me…It was not good with him and the other colleague.
I told Tabuley that I am not rejecting you from joining me so that we fight together from now onward because SPLM does not reject new members because it like a river. So I left them in Khartoum and they have become friends with SPLM/A. I told them that we will now see how he will work with us and how long will it take.
So those who attack people now are behind time. The agreement has been signed by many of us.
Opposition leaders
These are people who want positions in the government. If people want positions in the government, they must be seen as leaders. Those who joined yesterday to sign, so this agreement we have signed says the pre-transitional period will start as soon as we finish the interim arrangements and it will last for eight months. During this period, all forces of those people will be cantoned and trained before being integrated into our army.
I told those of Riek that you organize your forces with all their ranks… I will not accept a general without forces.
I will explain the details of the agreement on another day. But if you need to get the details of the agreement, I don't have any problem. We can meet on Wednesday at Dr. John Garang Mausoleum or Juba Stadium in Juba or we meet on Saturday. So I thank you for receiving me.