Trafficking in Persons report launched in Juba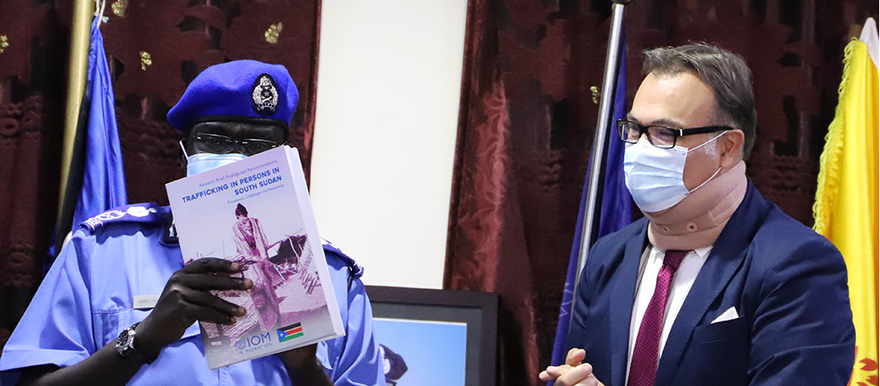 The UN migration agency, International Organization for Migration (IOM) in partnership with South Sudan's government has launched a report on the Trafficking in Persons.
The report, titled "Trafficking in Persons in South Sudan: Prevalence, Challenges and Responses", was launched in the capital Juba on Wednesday.
The report is the first dedicated study into Trafficking in Persons (TIP) in South Sudan conducted by IOM and Technical Task Force to Counter Trafficking in Persons and Smuggling of Migrants, aimed to determine the prevalence of trafficking in the country, the pull and push factors of TIP and to provide evidence-based recommendations to strengthen South Sudan's national TIP response and bring about necessary reforms.
The report says human traffickers took advantage of limited government response to trafficking due to restricted capacity, governance challenges and ill-equipped institutions to target and exploit vulnerable groups.
The report also stated that the prevalent forms of trafficking in South Sudan are forced recruitment into armed forces and armed groups, forced marriage, domestic servitude and sexual exploitation particularly among women and children, as well as labour exploitation.
The document accentuates international migrant's vulnerability to exploitation by employers or extortion by public authorities.
In 2019, a Technical Task Force on Anti-Trafficking in Persons and Smuggling of Migrants was set up through South Sudan's Ministry of Interior, centered around the need to take strong action to prevent and deter TIP by setting up whole-of-government response, raise awareness and train front line actors on victim identification and participate in regional policy dialogues and evidence collection on TIP data.
"Combatting human trafficking is a priority for South Sudan and we are committed to work with our partners, including IOM, to prevent crimes associated with Trafficking in Persons, prosecute offenders and protect victims," said General Majak Akec Malok, Inspector General of Police.
He added; "Countering Human Trafficking is South Sudan's Key Area of priority under Comprehensive Migration Policy of South Sudan. This requires concerted efforts by all stakeholders including our international partners."
The UN Sustainable Development Goals 5, 8 and 16 recognize the need to bring an end to human trafficking as a concerted global priority and one if not achieved, will stifle development across the globe.
"Today's launch of the TIP report marks an important milestone in efforts to combat human trafficking in South Sudan," said IOM South Sudan's Chief of Mission, Jean-Philippe Chauzy. "The government's pledge to combat this scourge, which IOM is fully committed to support, extend beyond South Sudan."
"Human trafficking transcends borders and therefore, shared global commitments and efforts should be the cornerstone towards successfully tackling these heinous activities," added Chauzy.