Traders still see no end to illegal checkpoints in Upper Nile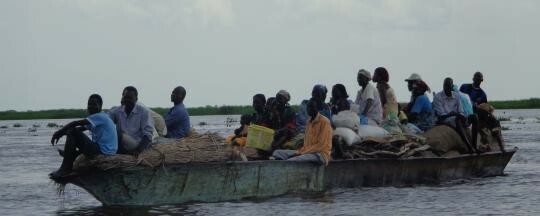 Soldiers at illegal security checkpoints in Upper Nile State are exploiting traders and hindering river transportation, traders complain.
This complaint comes after the state government closed down the checkpoints and stopped the collection of illegal taxes in August.
Simon Achuil, secretary of the Upper Nile Boats Union, told Radio Tamazuj on Monday that boat owners delivering goods along the Nile complain that they are still charged high fees at multiple illegal checkpoints.
"Yes, some illegal checkpoints are still there. But there has been some improvement since the state government cleared illegal checkpoints, especially between Malakal and Renk," he said.
Two traders said recently they had paid three million South Sudanese Pounds to middlemen in order to pass illegal checkpoints along the Sobat River, Simon added.
He appealed to the state government to inspect the areas where illegal checkpoints have been established. "We don't know the identity of those who are at the illegal checkpoints because they claim to be government officials," he said.
For his part, State Security Advisor Al-Tayib Ajak said: "I can say the security is stable and boats are moving between Malakal and Renk and there are no illegal checkpoints. Yes, we are facing challenges on the eastern part from Malakal to Nasir. So there are illegal checkpoints there."
The security advisor emphasized the need for coordination and cooperation between authorities in Upper Nile, Jonglei and Unity states to control the illegal checkpoints mounted on roads and along the Nile River.
"This is a responsibility of the national government, they need to stop this issue of multiple checkpoints between Juba and Malakal," he concluded.