Torit traders cautioned against employing children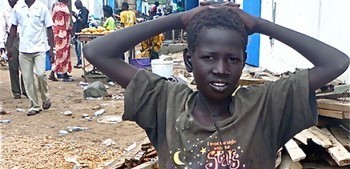 Photo: A street child in South Sudan's capital Juba. (Credit: The Niles)
The child labor committee in Torit Municipality on Tuesday cautioned traders at the market against employing children instead of attending school.
According to the Child Act, every child has the right to be protected from exposure to economic exploitation and child labour.
Zakaria Orra, a member of the committee, told Radio Tamazuj on Tuesday that the committee conducted a random inspection at the market targeting traders using school-going children to sell their goods.
He pointed out that the committee managed to assemble 18 children working at the market. Zakaria pointed out that child labour is against the law.
"We collected about 18 children who are underage, and we asked the owner of the commodities to turn up to the administration here. They will explain why they are misusing these children," he added.
Orra further said the traders will not be charged but will only be warned from using children saying it constitutes child labor. He also advised parents to ensure that their children attend school.
"We know that there are hardships but it is not good to use a child for some of the businesses which they cannot afford, which they are not able to do," he lamented.
Last month, Torit state education director Gabriel Oliha advised parents to ensure that their children attend school saying it is for their future benefits.