Torit soccer coach killed, driver wounded along Torit-Juba road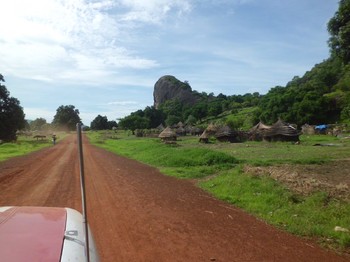 Photo: Road to Torit /Andy in SouthSudan
Police authorities in Torit State have confirmed that one person identified as Iloli FC coach and a soccer player for El Hilal football club in Torit was killed and a driver wounded when their vehicle was ambushed along Juba Torit road on Thursday.
Torit police spokesperson Major Mathew Ochan told Radio Tamazuj that a group of armed men attacked the commercial vehicle coming from Juba to Torit near Jebel Mulak some few meters from SPLA military Barracks
"Unknown gunmen shot the car and killed one person by the name Daniel Everest Soboyong age 32 years Lotuko by tribe from Iloli and wounded the driver by the name Peter Taban Angelo Acholi by tribe a driver of 36 years. Only the wounded driver and the dead person. The driver is in the hospital,'' he said.
Ochan said the incident happened on Thursday evening at a place called Jebel Mulak, near the military barracks in Torit.
He revealed that the injured driver is currently receiving treatment at Torit State Hospital.
The police official added that the security situation along the road had deteriorated but the military is now patrolling to reduce the incidents of such crimes.
"The military is on the road. They are now patrolling so people should feel free, all these crimes will stop soon,'' he assured.
Last month, armed men ambushed a commercial vehicle at the same place and made away with goods of unknown value.