Top SPLA-IO commander resigns, joins Cirillo's rebel group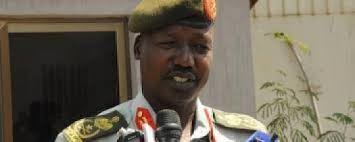 A top SPLA-IO commander from Western Bahr al Ghazal has resigned and defected to the newly formed National Salvation Front (NAS) under Lt. Gen. Thomas Cirillo Swaka, the first high-level resignation this week from the main rebel group in South Sudan.
General Faiz Ismail Fatur, the member of the SPLA-IO high military command and former sector commander, sent a two-page letter to Riek Machar and his chief of staff saying he would join the new rebellion of former SPLA deputy chief of staff for logistics Thomas Cirillo.
"This letter is intended to serve as my official resignation as a member of the SPLM-IO as well as a member of military high command in the SPLA-IO. The resignation comes into effect this Thursday, falling March 9th 2017," he wrote in the letter seen by Radio Tamazuj on Thursday.
Ismail accused the SPLA-IO faction of lacking effective organizational systems, well-articulated vision and proactive leadership to topple Kiir's government in Juba.
"I forewarned against unnecessary promotions which you often do without proper consultations. Now, the army is curtailed by officers without assignments, shamefully, at places, you find a brigadier leading a squad," he said.
The top general blamed the exiled rebel leader Riek Machar for failing to assign a senior member of the movement to carry out his duties and embark on a lobbying campaign in the region.
"As you are cognizant, the political mess, insecurity and dire economic cart is rapidly ingesting and swallowing the innocent people of South Sudan whose hopes and aspirations for change are placed upon us. It is now five years since we started resistance, albeit, little is being done towards realization thereof," he said.
"Given these reasons, it is unforgiving to idly stay in the SPLM/A-IO. I, therefore disengaged any political and military commitments with IO hence announce my allegiance and full support to the National Salvation Front under the leadership of Gen. Thomas Cirillo Swaka,"he added.
Ismail called on the people of South Sudan to rally behind the National Salvation Front, particularly the people of Western Bahr al Ghazal.
Ismail's defection comes shortly after the South Sudan Democratic Movement/Army-Cobra Faction (SSDM/A-Cobra Faction) in Boma State, decided to merge with the newly declared National Salvation Front.
Photo: Chairman and Commander-in-Chief of the National Salvation Front, Gen. Thomas Cirillo Swaka/Radio Tamazuj