Top rebel official rejects calls for Kiir to quit as crisis grows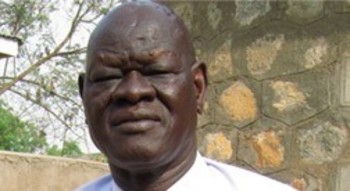 File photo: Peter Adwok Nyaba
A senior rebel official loyal to former first vice president turned rebel leader Riek Machar has rejected calls by the opposition for the immediate resignation of President Salva Kiir, saying the demand could jeopardize the peace process.
The opposition alliance has recently demanded that the country's president Salva Kiir should not lead the transitional government, accusing him of violating the 2015 peace accord.
Dr. Peter Adwok Nyaba told Radio Tamazuj in an interview this afternoon that the demand for Kiir to quit was "fundamentally wrong".
"I don't agree with those who are saying Kiir should step down while they need a peace agreement with him," Adwok said.
"You cannot negotiate while saying Kiir should step down, so you cannot set such a condition. If you don't want Kiir, you have to defeat him militarily without negotiations," he added.
Adwok, a close ally of the exiled rebel leader, criticized the opposition for demanding that the country's president Salva Kiir should resign during the recently concluded peace talks, arguing that such a move would jeopardize chances of reaching a peace deal with the government in Juba.
"This is now a hurdle created to prevent peace. This is my own opinion," he said.
"The South Sudan warring parties should be part of the talks so that we have peace. What we want right now is to find a solution to the ongoing conflict, but our political wrangling will remain there" he said.