Top lawyer downplays case against Machar's ex-spokesman Gatdet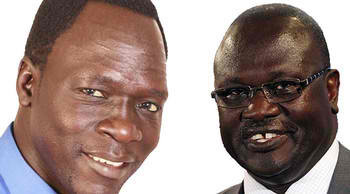 The lawyer for rebel leader Riek Machar's former spokesman James Gatdek Dak at a criminal court in Juba has rubbished the National Security Bureau's charges against his client.
Gatdet is accused of inciting violence, treason, disseminating false information to the detriment of South Sudanese national security, and insulting President Kiir under the South Sudanese penal code of 2008.
Senior lawyer Monyluak Alor Kuol told Radio Tamazuj yesterday that the charge sheet filed by the national security office in Juba against James Gatdet was "baseless."
"We are saying that the charges against Gatdet are baseless because all what he wrote and posted on his Facebook following fighting in Juba it was because he was a press secretary for one of the political entities," he said.
Alor argued that his client is facing serious charges based on his political affiliation and that he should be pardoned together with political detainees.
He pointed out that the high court sitting that was conducted last week has been adjourned until September 15. "We will discuss with the complainant who is from the national security, so he will come to the court on Friday," he said.
Monyluak said his client was tortured once by a security agent and that Gatdet lost weight in detention.